How to Build a Bulking Diet and More…
In today's digest we bring you articles on How to Build a Bulking Diet, 3 BEST HOME EXERCISES TO GET RID OF FLABBY ARMS, Quick Fixes for Everyday Aches and Pains and Plate Pinch Press – Muscles Worked, Exercise Demo, and Benefits – BarBend. Hope you enjoy them…
How to Build a Bulking Diet
If you are wondering if you should bulk, then you should definitely be bulking. A lot of people make fun of the perma-bulkers but if you put your body through a period of intense muscle development, your gains will become stunningly better than they are currently. This is a technique that has been in use …
If you are wondering if you should bulk, then you should definitely be bulking. A lot of people make fun of the perma-bulkers but if you put your body through a period of intense muscle development, your gains will become stunningly better than they are currently.
This is a technique that has been in use for a long, long time and you can see it everywhere around you. Just look at the movies – Ryan Reynolds in "Blade Trinity", Jason Momoa in "Conan" and Chris Hemsworth in "Thor" all bulked before they shot the movies. There is a lot of information on the internet about how to bulk, but in the end you can summarize it in these five points. Here's how to bulk like a pro.

STEP 1: Find Out How Many Calories You Need to Maintain Your Body Weight
This is your caloric maintenance number, the number of calories that your body needs to keep itself where it is right now. If you want to put on more muscle, you have to tell your body to grow more by sending it growth signals.
You bulk using two main signals to your body – eating and working out. The first and foremost thing you should do before you start planning is get your calories in check. If you don't do this, don't even bother starting in the first place. If you want to put on weight, your body will need a high number of calories which are more than what it needs to maintain itself. It's really simple – consume more than your body will burn!
So, let's get to it. First, you need to determine your maintenance calories. This is where you break even with consumed and burned calories without gaining or losing any weight. Here's how to do it:
Use a calorie calculator. These are based on years of research and data and they will let your figure out your daily calorie needs.
Eat the exact amount of calories that the calculator designated as your daily calorie need, for one week. Don't change your routine or anything else, but check your weight before and after that week.
If your weight hasn't changed in that one week, do it for another week just to be sure. If your weight has increased, eat 250 fewer calories and do it for another week. If it has increased, eat 250 more calories per day and try it another week. You should be doing this until you find two consecutive weeks where your weight has not changed.
This means that you might need a month or maybe even two to prepare for your bulking period, but when you do prepare, you will have mastered the calorie numbers and you will be able to control what happens with the calories in your body.
STEP 2: Map Out Your Surplus
Now that you know how many maintenance calories you should eat, you can move on to the next phase – creating your bulking diet. You need to find the sweet spot that will let you get the best gains possible, because if you overeat, you will be putting on fat mass, but if you under-eat you will not be making as good a progress as you could be.
The sweet spot you're looking for is between 5% and 20% extra calories per day. If you eat with a 20% surplus, you will start getting fat and eating with a 5% surplus is the bare minimum for any muscle mass boost. If you eat somewhere between 5% and 10% surplus, you will optimize the lean muscle to fat tissue ratio, and if you eat at 10% surplus calories you will have the adequate amount of food to grow sustainably. Also, as it turns out, if you eat a 20% caloric surplus a day, you don't get more lean muscle. Instead, you just get fatter.
STEP 3: Know What You Need to Eat!
Now that you've figured out how many calories you need to eat and determined your 5% to 10% caloric surplus, you need to know how you will actually ingest those calories into your system. You need protein, carbs and fats. Here's how to divide them.
PROTEIN. If you look it up, you will see that there is so much literature regarding protein intake that you could start reading right now and never finish even a percentage of it while you live. More or less, all of the studies come down to this – you need a gram of protein for every pound of bodyweight per day if you want to grow. Eat 1.5 grams of protein instead if you need to, but the norm is around 1 gram for every pound in the beginning.
CARBOHYDRATES. Carbs have been well documented as well. The studies say that you should eat 2 grams of carbs for every pound of bodyweight per day, which should be somewhere between 45% and 55% of your daily caloric needs. If you work out for 2-3 hours daily, feel free to boost your carbs to 3 grams for every pound of bodyweight daily, which would be between 55% and 65% of your total caloric needs.
FATS. You need fats as well, but they aren't just energy – they are more of a utility macronutrient, which will let you bulk more easily. It's easier to ingest the necessary amount, and to figure out what that is, just take your protein and carbs numbers together, subtract them from your daily calories and you will have the number of calories you need to consume in fats.
STEP 4: Know What Supplements You Need
If you want to start a bulking diet, chances are you think it's gonna be all supplements and no fun. You couldn't be more wrong. A bulking diet is based on the right food, with supplements added in to maximize the effect. Here are the supplements you will need for a good bulk.
WHEY PROTEIN. When you get tired of eating steak, chicken breasts and fish, you will need to get some whey in your body. Also, whey shakes can help you ingest liquid calories which you might need urgently after training. There is no bulking period without whey protein.
CREATINE. If you have a larger training volume, you will have better muscle mass gains. It's that simple. Creatine has been proven to boost your training capacity and will boost the volume of your training as well. If you're trying to increase your training volume and build muscle mass without taking creatine, you are definitely missing out.
CAFFEINE. You will need caffeine for one simple reason – it works! It will help you train harder, so consider drinking a cup before working out.
STEP 5: Set Your Sleep Schedule
Even though this is not technically a part of the diet, sleep is an integral part of the muscle growth process and your body will not grow if you don't sleep. Your body receives the signals that it needs to grow while training, but it only grows when it's recuperating while you sleep. 7 hours is fine, but 8-9 is better because when you sleep there are a number of recovery and hormonal reactions in your body that grow your muscles.
How to Build a Bulking Diet was originally published at https://www.fitnessandpower.com/nutrition/how-to-build-a-bulking-diet

3 BEST HOME EXERCISES TO GET RID OF FLABBY ARMS
Today we have three simple moves that are most effective at keeping your shoulders healthy, strong, and toned. Before we get to what those super moves are, let's pause for a quick anatomy lesson (trust us, this will help with your sculpting). As you may or may not remember from high school, there are three …
Today we have three simple moves that are most effective at keeping your shoulders healthy, strong, and toned.
Before we get to what those super moves are, let's pause for a quick anatomy lesson (trust us, this will help with your sculpting). As you may or may not remember from high school, there are three distinct muscles that make up the shoulder—the anterior, medial, and posterior deltoids—and each one is worked by different exercises. The anterior—a fancy word for "front"—is the part you see when you look at your shoulder in the mirror. It's also the part of the shoulder that we tend to focus on most, in moves such as push-ups and shoulder presses. But when we spend too much time strengthening the anterior delt, the shoulder muscles become unbalanced.
---
---
Not only can this affect your posture (when the front delts are strong and the rear delts are weak, the shoulders tend to roll forward), that structural imbalance is what leads to shoulder injuries, the most common being rotator cuff tears, says exercise physiologist Jacque Ratliff. When one part of it is stronger than the others, it's not able to move the way it's supposed to. That puts extra strain on the connective tissue that supports the shoulder, and when that tissue gets worn down or weakened, it's more prone to tearing.
And it's not just about injury prevention; when one shoulder muscle is more defined than the others, your upper body will look imbalanced. But when all three parts are strong and balanced, you'll stand up straighter, see more tone, and have the look of someone who takes care of her body, says Ratliff.
Now back to those 3 moves. In its study, ACE tested 10 of the most commonly recommended shoulder exercises, such as shoulder presses, dips, and push-ups, and found which ones best activated each part of the shoulder. The winners are below. Combine all three (aim for 3 sets of 12 to 15 reps of each move 3 times a week) and you've got the perfect shoulder sculpting routine.
1. Dumbbell Shoulder Press
Best for: The front of your shoulder (anterior delts)
Stand with feet hip-width apart and knees slightly bent, holding 1 weight in each hand. Bend your elbows and raise weights over your shoulders. Slowly extend your arms overhead, bringing your biceps by your ears. Slowly lower weights back to shoulders.
---
---
2. Rear Lateral Raise
Best for: The back of your shoulder (posterior delts)
Grab a pair of dumbbells and bend forward at your hips until your torso is nearly parallel to the floor. Let the dumbbells hang straight down from your shoulders, your palms facing each other. Without moving your torso, raise your arms straight out to the sides until they're in line with your body. Pause, then slowly return to the starting position. That's one rep.
3. Single-Arm Row*
Best for: The side of your shoulder (medial delts)
In a staggered stance, with left foot 2 to 3 feet in front of the right, bend left knee and lean forward at a 45-degree angle to create a straight line from your back heel through the top of your head. Place left hand on left thigh and extend right arm toward floor, holding a weight in your right hand. Bend your right elbow and raise the weight toward your chest, then lower it back to starting position. Complete your reps and then repeat the move on the opposite side.
---
---
3 BEST HOME EXERCISES TO GET RID OF FLABBY ARMS was originally published at http://www.trainhardteam.com/3-best-home-exercises-to-get-rid-of-flabby-arms6/

Quick Fixes for Everyday Aches and Pains
Even those of us who eat right, exercise, and take a lot of steps to stay healthy every day will experience body aches and pains from time to time. Things like stress and too much time sitting down will bring them on. If, for instance, you find yourself more sedentary than usual, your body will …
Even those of us who eat right, exercise, and take a lot of steps to stay healthy every day will experience body aches and pains from time to time. Things like stress and too much time sitting down will bring them on.
If, for instance, you find yourself more sedentary than usual, your body will actually start to adapt to that behavior, explains Vikash Sharma, a doctor of physical therapy at Perfect Stride Physical Therapy in New York City. "All of the tissues that are responsible for sitting will become better for sitting," he says — tissues surrounding the joint may shorten, for example, limiting the tissue's mobility and ushering in aches and pains.
The same phenomenon can happen to other parts of the body when you spend too much time in one position. Looking at a screen for too long? Hello, eyestrain!
Fortunately, you can get a whole lot of relief with targeted stretches and movements throughout the day. "Your body is meant to move. Movement is the most powerful form of medicine out there," says Dr. Sharma.
Here are nine fixes that can help.
1. Relieve Lower Back Pain With Pelvic Tilts
Lower back pain is one of the most common complaints, says Sharma. Which is not all that surprising considering how much time most of us spend moving our backs, he says — not a lot. If you're sitting all day, maybe hunched over, your back is aching for some action.
At your desk, practice pelvic tilts, which activate your lower back and spine. "Think about your pelvis like a bowl that's filled with water. Try to spill the bowl forward and then backward," he explains. Your lower back should arch on the forward movement and flatten out in the backward phase. Aim to perform 10 every 30 minutes.
2. Loosen Up Your Hips With Targeted Stretches
Sitting at a computer in a fixed position tightens up your hips. "In the seated position, you're closing the angle down between the thigh bone and your abdomen and trunk," explains Sharma. The key here is to move your body in the opposite direction. Take a quick break for an active hip flexor stretch, he recommends. Stand up and bring your heel up toward your butt and grab onto your foot to stretch the quadriceps (quad) muscle. Introduce range of motion by moving your knee forward and back, which will activate the gluteus (glute) muscles and stretch the hip flexor. Repeat on the other side.
3. To Lessen Shoulder Stiffness, Take Deep Breaths
If stress is prevalent throughout your day, there's a good chance it's causing tightness and stiffness in your upper back, neck, and shoulders. Changing your breathing patterns is key to opening up these areas, says Sharma. "Stressed out breathing is shallower," he explains. What happens is that instead of using your diaphragm to breathe, you end up using accessory muscles to inhale and exhale, which are located in the upper rib cage and neck. The result: rapid breathing.
Focus instead on diaphragmatic breathing — slow, deep, longer "belly" breaths. You should be able to feel your stomach move out as you breathe in and fall as you breathe out. "I work with some people in the clinic and when we address their breathing, their pain levels in general drastically reduce," Sharma says.
4. Soothe Neck Strain by Sitting Up Straight
If you're reading this article on a computer screen right now, take a minute to analyze your position: Are you leaning forward?
"The most common problem we find with neck pain is when people sit at a desk or computer for long periods of time, their head starts to lean forward as they get closer and closer to the screen," says Joel Press, MD, the physiatrist-in-chief at the Hospital for Special Surgery in New York City. This posture will overload and strain the muscles in the back of the neck: "It's like trying to hold an 8- or 10-pound bowling ball a foot away from your body," he says. The fix: Pull your head back toward the center of your body and sit with your head centered over your shoulders, he advises.
5. Give Hands a Break Regularly
Typing up a storm? You might be crushing your to-do list, but it can leave your hands and wrists in pain.
"When you're typing for long periods of time without taking a break, it can cause the muscles to get very tense and fatigued. Just like with any other muscle, when you're fatigued, lactic acid can build up and there can be cramping and stiffness," says Dr. Press, who recommends giving hands a break every 30 minutes. Try this easy stretch from Keck Medicine at the University of Southern California: Make a fist with each hand, hold, and open your hand to spread fingers wide. Repeat three times.
6. Stretch and Roll Out Aching Feet
Spending most of the day in shoes deprives feet of the sensory input they need to perform at their best, says Sharma.
To get them back online, there are two exercises you can do. First: toe yoga. In a standing position, try to lift your big toe off the ground by itself (the other four toes should stay firmly on the ground). Next, try lifting the four little toes off the floor while the big one stays put. If you can't do it yet, that's a skill worth working toward, as that type of mobility helps guard against foot dysfunction.
Sharma also recommends keeping a tennis ball or lacrosse ball under your desk to reduce foot sensitivity. "Take your shoes off at your workstation and roll the ball on the underside of your feet, which provides sensory signals to wake up the connection between your foot and brain," he says.
7. Look Across the Room Regularly to Ease Eyestrain
Eyestrain — or computer vision syndrome — is triggered by spending prolonged periods of time in front of a screen; symptoms include headaches, blurred vision, dry eye, and neck and shoulder pain, according to the American Optometric Association (AOA).
It's easy to get lost in your work, but to both prevent and reduce eyestrain, if you're working on a computer, the AOA recommends practicing the 20-20-20 rule: take a 20-second break to look across the room (at something 20 feet away) every 20 minutes. If it's tough to implement, set a timer, a calendar reminder, or use an app (such as BreakTimer or Stand Up!) to remind you to regularly stop and stare at something else.
8. Lessen a Headache With Self-Massage
Headaches can have many triggers, but a common reason for the pain is related to muscle strain that comes from sitting at a desk or computer for too long, Press explains. Again, you'll need to take a break (notice a theme?). If your headaches are related to digital eyestrain, then following the 20-20-20 rule from the AOA can help. Otherwise, Press recommends using massage balls near the back of the head to decrease tension.
9. Relieve Menstrual Cramps With Cat-Cow
Period pain is familiar for many women. In a study published in the Journal of Pain Research, 84 percent of the more than 400 young women surveyed reported experiencing it. Among those, one-quarter reported having pain that was so bad they need medication or had to miss out on activities because of it.
Specific yoga exercises, combined with breathing, have been shown to alleviate cramps, according to a study in the International Journal of Environmental Research and Public Health from July 2016. In that study, yoga poses such as Cat-Cow, Child's pose, and Downward Dog were all found to help.
Quick Fixes for Everyday Aches and Pains was originally published at https://trib.al/nOtJ9yA

Plate Pinch Press – Muscles Worked, Exercise Demo, and Benefits – BarBend
To build a bigger chest, many of us turn to more volume and heavy bench pressing. While these methods are key to building solid slabs of muscle and maximizing growth, they can often lead to overtraining and joint issues if done over and over and over. Movements like the plate pinch press can be integrated …
To build a bigger chest, many of us turn to more volume and heavy bench pressing. While these methods are key to building solid slabs of muscle and maximizing growth, they can often lead to overtraining and joint issues if done over and over and over. Movements like the plate pinch press can be integrated into chest workouts to increase muscle hypertrophy and create a chiseled and defined pectorals, all while helping to minimize and limit shoulder (anterior shoulder) and overuse.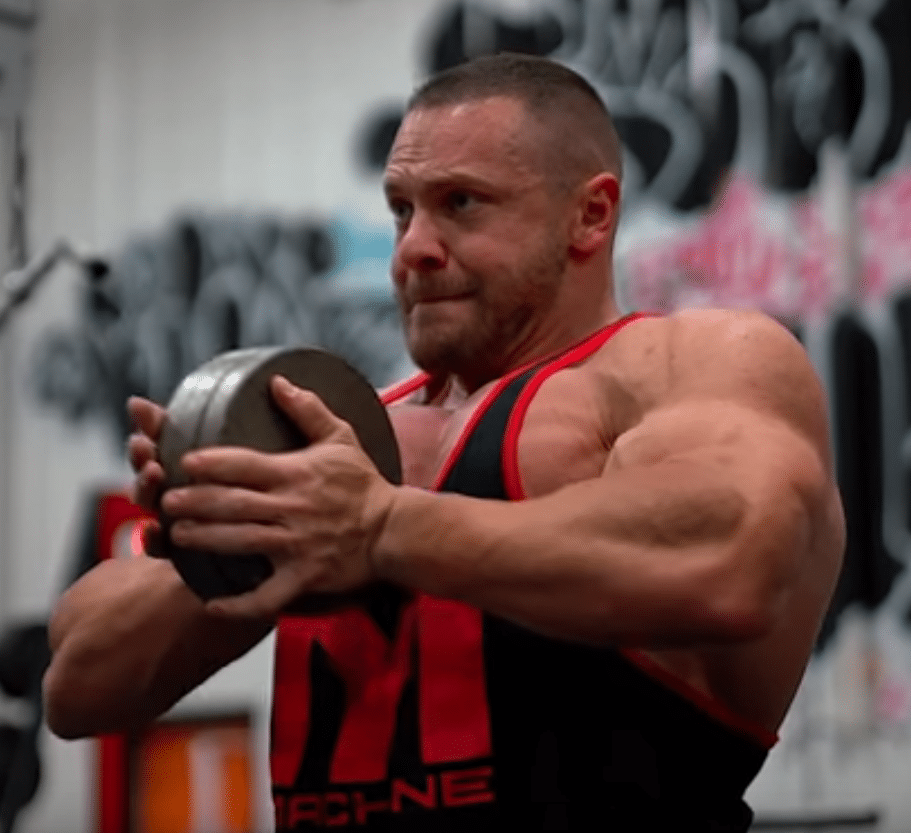 Tiger Fitness on Youtube
In this article we will discuss plate pinch presses, offer exercise how-to-video demonstrations, and highlight the key benefits and value that this simple and effective accessory movement can offer coaches and athletes looking to maximize chest development.
Muscles Worked
The plate pinch press specifically targets the pectoral muscles, and is a great movement to limit the involvement of secondary muscles that are often recruited when doing other popular chest training movements; like bench pressing, dips, and even push ups. Below are the key muscles worked when performing plate pinch presses.
Pectorals (chest)
Triceps (lateral head primarily)
Anterior Deltoid (minimize involvement by not holding hands too high in air)
Plate Pinch Press Exercise Demo (Chest)
In the below video, the plate pinch press is demonstrated. Note, this movement can be done using very little weight. Performing this movement with slow, controlled, and forced contractions is key to increasing time under tension and muscular engagement. Additionally, this movement can be performed standing or lying on a bench, using a wide variety of angles.
Benefits of the Plate Pinch Press (Chest)
Below are five benefits that coaches and athletes can expect to gain from performing the plate pinch press within chest workouts. Note, that this movement does not necessarily replace bench pressing as a whole, but can offer us unique and balanced approach to maximizing chest and pressing development.
Increased Time Under Tension
The plate pinch press involved a low load of resistance, as the lifter is often using 5-10lb plates, typically only 2-3 at a time. The key with this movement is not to move as much weight as possible, but rather to maximize tension and forcefully contract the pectorals throughout the entire range of motion. Sets of time repetitions or to complete exhaustion can be done to force muscular recruitment and fatigue, often performing sets lasting 45-90 seconds.
Isolation of the Pectoral Muscles
Bench presses, dips, and other popular chest movements do a wonderful job at building strength and muscular hypertrophy, however repetitive training of such movements can result in shoulder and elbow stress in some individuals. The plate pinch press has the ability to maximize pectoral involvement throughout isolating the chest muscles and minimizing the usage of larger muscle groups like the lats, triceps, and shoulders; all of which assist in typical pressing movements.
Train Chest Around Injury
Shoulder, elbow, and even wrist injury can plague chest training, as movements like the bench press, dips, and push ups can place strain and stress on the muscles, tendons, ligaments, and joints. In times of injury, isometrics and load loaded isolation movements can be used to rehabilitate muscle groups and/or provide enough stimulus to help athletes maintain muscle "pump" and being able to train around injuries.
Minimal Equipment Needed
The plate pinch press requires 2-3 plates, often performed with 5-25 lbs (per plate). While heavier presses can be done, the focus should be on the squeeze and tension created from pinching the plates between the hands is the key to developing muscular engagement. The ability to get a good muscle pump with load load and minimal equipment makes the plate pinch press a go-to movement for lifters of all levels and resources.